Floral Lehenga Design : For Your Intimate Day Wedding
Latest Designer Floral Lehenga Design
With the growing style of day weddings, the demand for lightweight jewelry and lehenga in pastel color shades has increased. People pick out modern-styled day weddings over traditional night weddings. Especially, during the pandemic, not many couples decided on a night marriage and rather opted to host an intimate day wedding. An intimate day wedding wants light yet astounding bridal attire as well. So, we're here to support all the dulhan having a day wedding with their bridal lehenga. A list of superb floral lehenga designs is all you need for inspiration.
Well, these floral lehenga designs are going to make you fall in love with floral embroidery design. The trend of light-shade floral lehengas are going viral for years. So, ditching that traditional red lehenga on your contemporary style close-day wedding wouldn't be so hard. Floral lehengas are also lightweight to keep you fresh even in every season on your intimate day wedding occasion. We've got some of the freshest and most stunning floral lehenga designs only for you. So, make sure to check out the complete composition and take all the inspiration you need.
Latest Floral Lehenga Design We Spotted For Brides-To-Be
Bright White Flower Lehenga Designs
White color lehenga is a super-hit among brides. Then, take inspiration from this bride who wore this bright white color lehenga. And, this one has an all-over floral embroidery work. And, its choli features a designer blouse and a georgette embroidery dupatta. Then, you can only wear it at the Mehendi and Haldi ceremony and also crack the look for the wedding and sangeet day.
Floral Lehenga Designs For Your Mehendi Function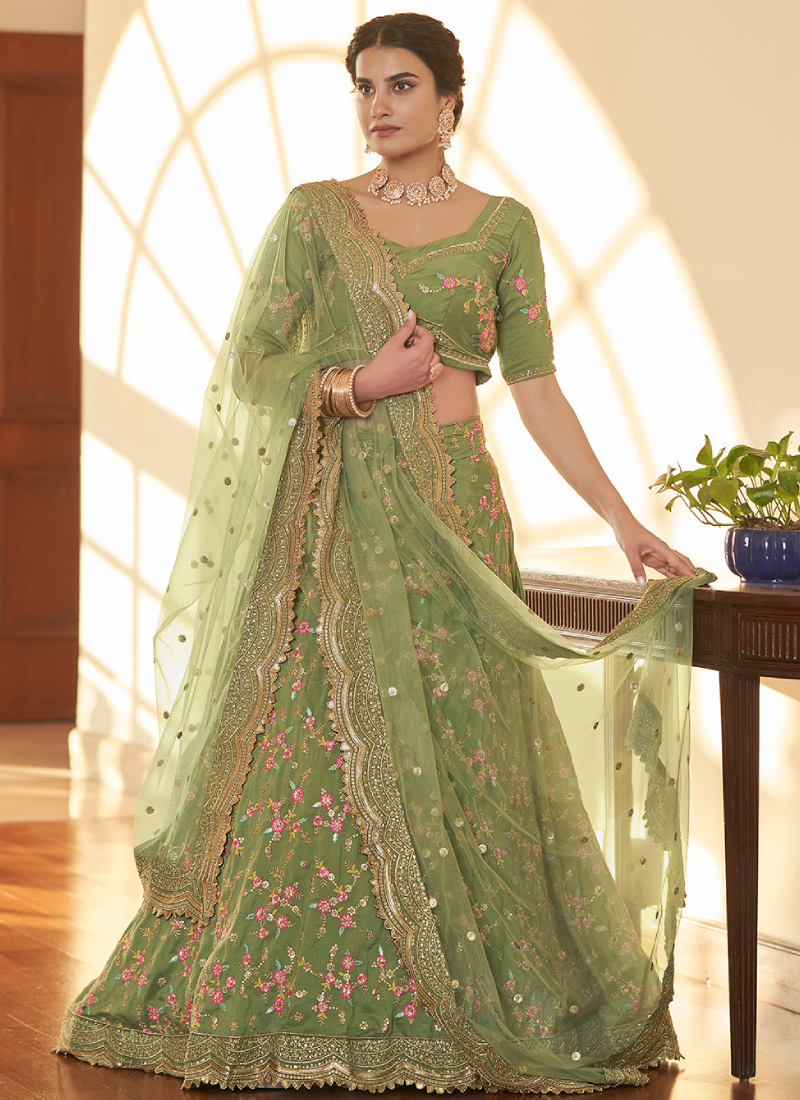 For years we've looked brides choose a floral lehenga for their day mehendi function and all the perfect reasons. Floral lehengas look outstanding in that daylight and highlight the bride's overall look.
3D Floral Lehenga Designs
This Real bride is setting trends on the internet with her astounding wedding look- this white color lehenga choli. And, this flower lehenga design with a 3D floral giving it a unique look. also, the bride here paired this lehenga with a heavy bridal necklace. So, try this style for your wedding or other ceremonial occasion and be a trendsetter.
Pink Floral Lehenga

Try out this stunning floral organza lehenga in pink color for a festive occasion or party. The lehenga is designed with floral zari and resham embroidery with stonework in organza fabric. The choli is zari embroidery maroon color fabric. Maroon color stone embroidered net dupatta with sequins work scalloped lace details.
Floral Bridal Lehenga
Then's a distinctive floral lehenga choli the bride can wear on her special wedding day. This is made from stunning silk material and zari, thread embroidery, heavy zarkan, and diamond work design. The lehenga blouse is also made from the net. The net dupatta is in the same color and has a zari border in a triangle design each over.
Mirror Embroidery Floral Lehenga

This kind of mirror embroidery work shows off the youthful and vibrant side of elegance. Then, simple floral lehenga screams bold, edgy, charming, and stylish. However, also, you can wear a mirror-embroidered blouse with a floral lehenga design skirt that's surely going to attract your guests' attention, If you don't want to go for a traditional look.
Floral Organza Lehenga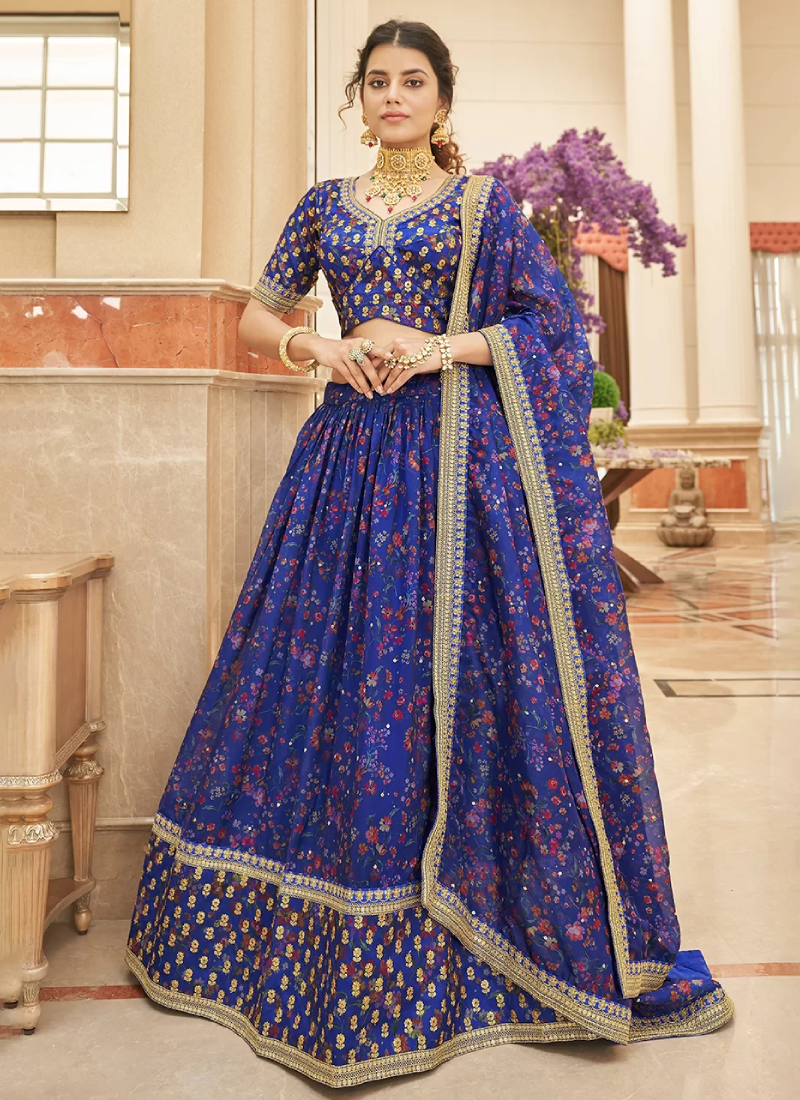 Go bright with this popping blue floral organza lehenga. also, this lehenga is fabricated from organza material and is filled with tiny floral prints. The lehenga has a zari border, which makes it perfect for a party, festival, or wedding function. This set is complemented with a royal blue organza blouse that has heavy embroidery work. And, intricate work on the borders of the blouse adds style and a designer take.
Black Floral Lehenga Designs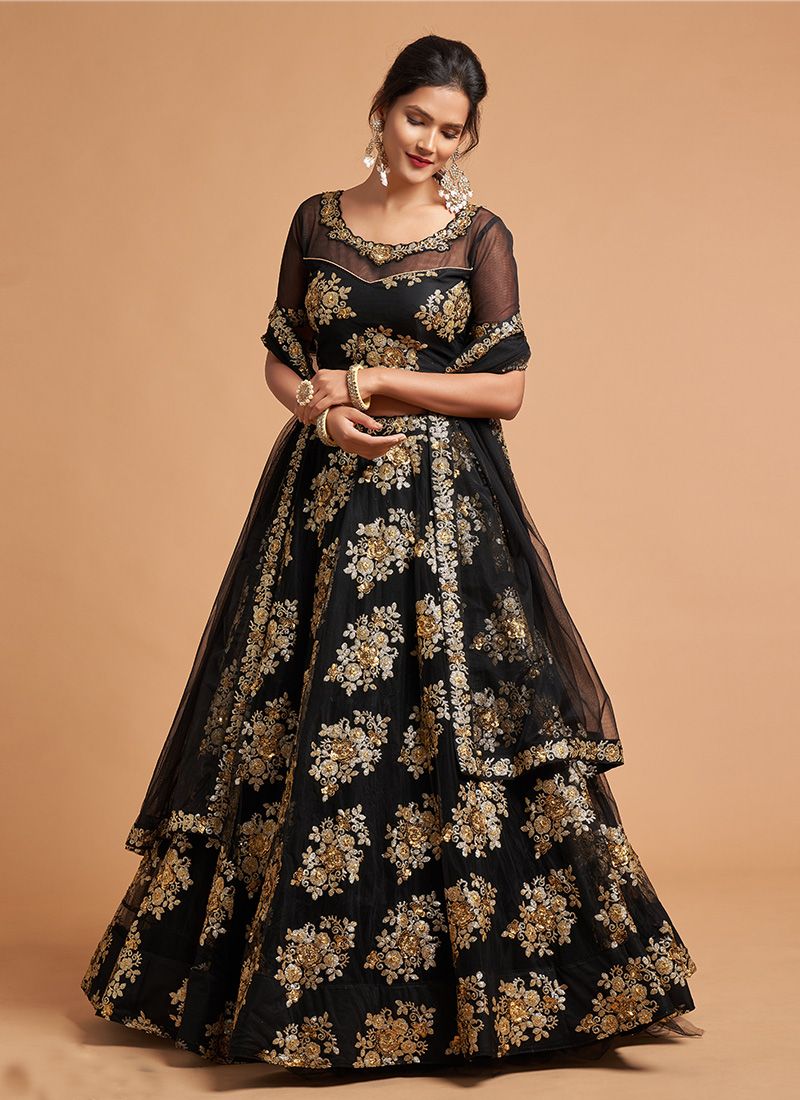 Look dazzling in this black floral lehenga choli design with a designer blouse that has zari thread detailing. Then, the work on the lehenga is impressive and is placed all over the shaped. The dupatta is also made from net material with zari embroidery work. This is something that you can use for any occasion like a party, wedding, or reception.
How To Style Floral Lehenga Choli:
Floral lehengas are the rage vogue and are going well. Lehenga in floral print is generally heavy in the look. So there's no want to add too numerous accessories to the set.
You can choose between silver or gold jewellery or indeed add pop jewellery.
Choose shoes with heels or jooties for a floral lehenga choli.
The hairstyles that you select can be simple or done up. According to the occasion, you can keep them traditional or lose them.
Floral lehenga should be accessorized according to the design and occasion. So add jewelry pieces and choose wisely.
The floral printed lehenga is a special way where traditional and modern looks both combined. Adding enchantment with flowers is a perfect design factor that designers have picked out for generations. The floral work can be done in silk or other materials too. The colors used in floral work can be from any one of the rainbow color shades. So choose from purple, orange, red, pink, blue, yellow, green, etc., to get an excellent floral lehenga choli set. The floral print lehenga design is one of the most popular choices in lehenga choli that are loved by girls and women alike.
Why should you buy Floral Lehenga Choli?
Floral Lehenga Choli is an excellent choice for anyone who wants to look stylish and elegant. It's perfect for any occasion, be it a wedding, festival, or family gathering. The floral prints and designs add a touch of uniqueness to the outfit, making it stand out from the crowd. The lehenga choli is available in various color shades, patterns, and designs, making it easy for you to explore one that suits your taste and preference. also, it's comfortable to wear and can be easily accessorized with jewelry and other traditional Indian accessories.